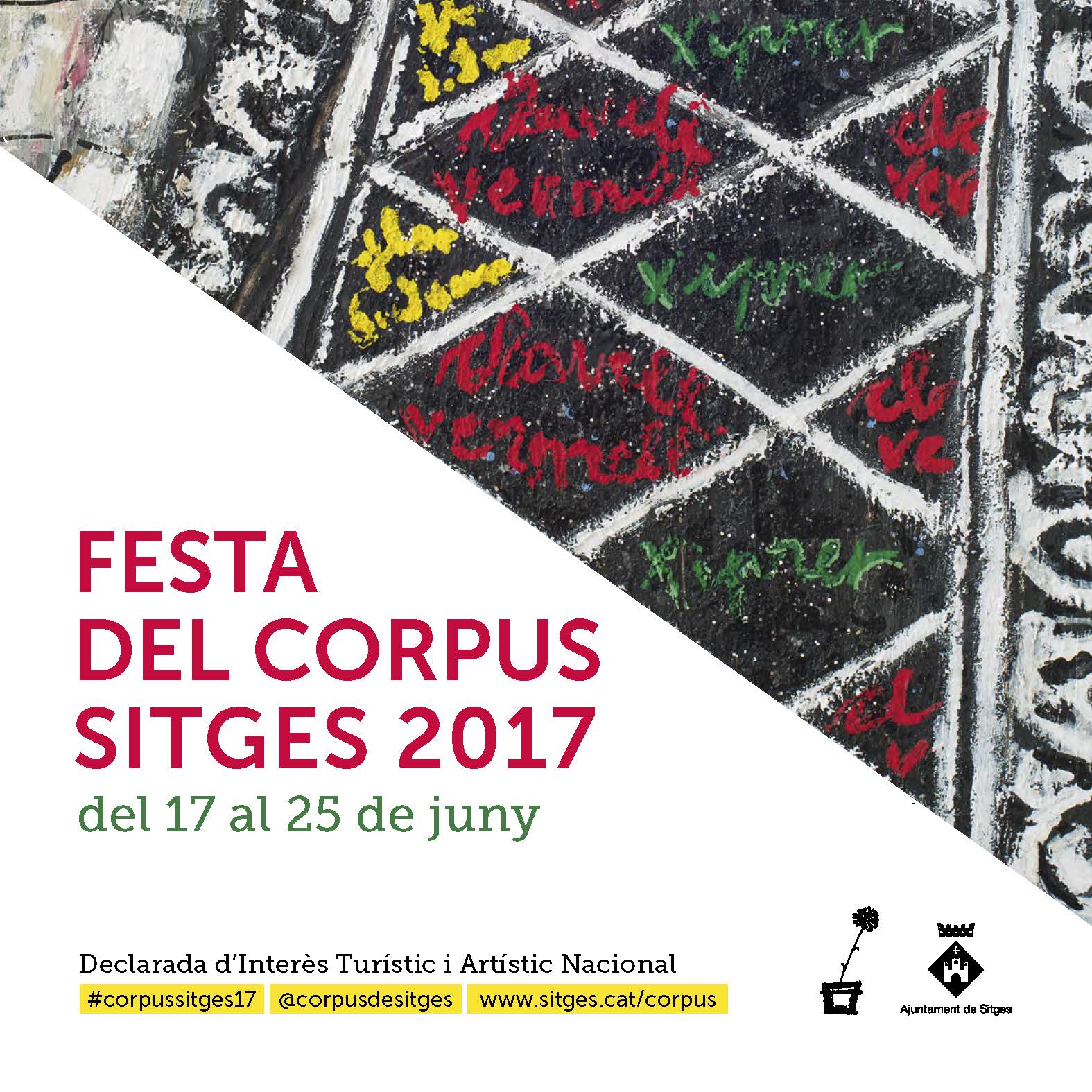 Inicio: 17/06/2017
Fin: 25/06/2017
Official program Corpus Sitges 2017.

Saturday 10 and Sunday 11 June

LET'S MAKE A VERTICAL CARPET WITH RECYCLED MATERIALS

For children between 6 and 12 years
Time: from 11 a.m. to 12.30 p.m.
Location: Miramar

Thursday, June 15

TALK: The fantastic and unknown world of cacti and other succulents. In charge of Joan Bofill, President of ASAC
(Friends of cacti and other succulents)
Time: 19 h Place: Garden of the Hotel Medium Romantic, C. San Isidro, 33

Friday, June 16

THE CORPUS FESTIVAL FROM THE KITCHEN OF THE RESTAURANTS

Days: from the 16th to the 25th of June.
6th Edition of the Floral Menu married to Malvasía de Sitges in the following restaurants in Sitges:

- Alenti Hotel & Restaurant. C. May 1st, 19
- Boccalino. Pl. Del Pozo Vedre, 1
- Dehesa Santa María. C. 1º de Mayo, 3
- The Arrocería del Puerto. Paseo de las Atarazanas, 23
- La Nansa. C. Carreta, 24
- La Pérgola (Hotel Ibersol Antemare) Av. Virgen de Montserrat, 48
- The Pícara. C. San Pedro, 3
- La Salseta. C. San Pablo, 35
- The Vikings. C. Marquis de Montroig, 7-9
- Pic Nic · Paseo de la Ribera, s / n
- Sitthai · C. Bonaire, 29

THE CORPUS FLAVORS
In different places of Sitges we can enjoy gastronomic varieties, Floral Menus, ice cream, tapas, cakes, drinks, etc. All of them thought to have a Corpus with pleasure.

THE CORPUS PASTEL
- Pastry shop Massó. C. Parellades, 2
- Pastry Calderón. Av. Camí de la Fita, 28
FLOWER ICE CREAM
- Olivier Italian ice cream shop. C. Parellades, 43. C. Jesus, 11
SAN JUAN FLOWER BEER
- The Sitgetana Craftbeer. C. Sant Bartomeu, 10
THE FLORAL TOP
- The Vikings. C. Marquis de Montroig, 7-9
- House Tecla. C. Sant Francesc, 9
- Sports Bar. Paseo de la Ribera, 48
- Café Bar Roy. Theme dessert. C. Parellades, 9
- The Indian (H. URH San Sebastián Playa). Theme dessert. C. Port Alegre, 53
FLORAL DRINKS AND COCKTAILS
- Alenti Hotel & Restaurant. C. May 1st, 19
- Estela Barcelona. Hotel del Arte. Av. Puerto de Aiguadolç, 8
- On the terrace Vivero Beach Club Restaurant. Paseo Balmins, s / n
- In the gardens of the hotels Medium Romantic, C. San Isidro, 33. Medium Sitges Park, C. Jesús, 16 and Sitges Royal Rooms, C. Francesc Gumà, 17
- In the beach bars

OPENING OF THE 27TH SAMPLE OF BONSAI AND SUISEKI
Time: 6:00 p.m.
Location: Miramar Auditorium

INAUGURATION OF THE EXHIBITION OF FLOWERS PICTURES
"Flowers, Sitges and colors"
Opening at 8 pm
Location: Estudi Vidal
Calle d'en Bosc, 8
Hours: 11 a.m. to 1 p.m. and 5 a.m. to 8 p.m.

Saturday, June 17

OPENING OF THE 78TH NATIONAL CLAVELES EXHIBITION
Time: 10:30 a.m.
Place: Jardines de la Sociedad Recreativa el Retiro

THE CORNER WITH FLOWERS
Children's workshop
We decorate the Rincon de la Calma with flowers and paintings. With the collaboration of Museums of Sitges.
Time: 12.30
Location: Rincón de la Calma

GEGANTERA FLORAL SAMPLE
Do you want to see how the giant's bouquet is made?
For children of all ages.
Time: 4.30 p.m.
Location: Florist Mirabent, C. San Francisco, 27

DEPARTURE OF THREE COUPLES OF GIANT OF SITGES
Old Giants of the Villa, Moorish Giants and American Giants.
Travel: Plaza del Ayuntamiento, Mayor, Parellades, San José, San Gaudencio, San Francisco, Cap de la Vila, Angel Vidal to the Retiro Gardens.
Time: 6:00 p.m.

CLAVEL PREGNON READING
In charge of Jaume Freixes and Graells, Pregonero del Corpus 2017.

Inauguration of the 78th National Exhibition of Carnations and the 27th Exhibition of Bonsai and Suiseki.

Then visit to the Exhibitions. The attendees will be invited to a refreshment offered by the Association of Paradistas of the Municipal Market and cavas Valldosera de Olèrdola.
Time: 7:00 p.m.
Place: Jardines de la Sociedad Recreativa el Retiro

EVENING MASS OF THE VIGIL
Finished the celebration, transfer and solemn exposition of the Santísimo to its chapel. Vigil of prayer in the Eucharist.
Time: 19.30
Location: Parish of San Bartolomé

FLOWERS, TRADITION AND PARTY, GUIDED VISIT TO CARPETS AND OTHERS
CORPUS SPACES
In charge of AGIS guides of Sitges. After the visit, possibility to add to the preparation of a carpet of flowers.
Time: 22 h
Location: Departure from the El Retiro Recreational Society

Sunday 18 June

FLOWER CARPETS IN VARIOUS STREETS OF SITGES
Since dawn

SOLEMNITY OF THE BODY AND THE BLOOD OF CHRIST (CORPUS CHRISTI)
Masses of the day of Corpus.
Hours: at 9 and 11 in the morning and at 12 noon
After the Mass at 9 o'clock in the morning, Exposition of the Blessed Sacrament, transfer to his chapel where he will remain exposed for personal worship until after the midday Mass.

MISA SOLEMNE CONCELEBRADA
Time: 7:00 p.m.
Place: Parish of SanT Bartomeu and Santa Tecla

Then,
PROCESSION WITH THE MOST HOLY SACRAMENT
Route: Baluarte, Mirador Miquel Utrillo, Recó de la Calma, Fonollar, Sant Joan, Devallada, Barcelona, Santiago Rusiñol, Jesus, Cap de la Vila, Parellades, Bonaire, Paseo de la Ribera, Sant Pau, Cap de la Vila, Mayor , Town Hall Square
And Baluart.